We at Gold Monarch Healing Center believe that every individual is able to step into their inheritance of kingdom living—spirit, soul, and body. We are passionate to see the promise of abundant life alive within each person, and seek to equip believers to thrive in all circumstances through whole-hearted living and divine health.
Our Team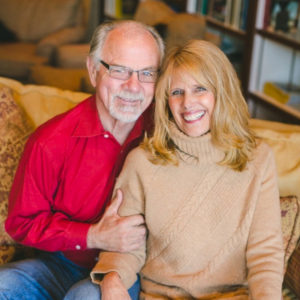 Amy & David Black have served for over 40 years in the ministry with a passion to see people come into the fullness of healing, wholeness, and the abundant life offered with salvation. Together, they have served five churches in the West Texas area, as well as starting and directing various retreats, healing centers, and outreach ministries. In 2010, they began and now oversee the Transformation School of Supernatural Ministry serving Abilene and the surrounding areas.
With a masters degree from Hardin-Simmons University in marriage and family therapy, Amy's passion has always been to see healing flow into the brokenness of people's lives, prompting her to begin and currently direct Gold Monarch Healing Center. She is currently the regional director for Heart Sync Ministries, which helps to equip and release freedom ministers all over the world, as well as offer individual ministry to hearts dealing with trauma and pain.
With an undergraduate degree from McMurry University and a masters of divinity from Asbury Theological Seminary, David has always been a natural teacher, equipping churches in a head pastoral role with practical truth about the Father's heart in an approachable, humorous, and powerful way.  He is a true father and loves to teach and impart the Father-heart message to all he comes into contact with.
When they're not traveling and ministering around the globe with Adventures in Missions, they call Abilene, Texas home where they oversee Gold Monarch Healing Center and act as Heart Sync Ministers.  They have two children and three grandchildren.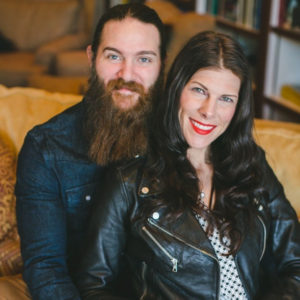 Christa Black Gifford is a popular blogger, speaker, author, and multi-platinum selling songwriters whose songs have been recorded by artists such as Jordin Sparks, Kristian Stanfill of Passion, Kari Jobe, Kim Walker-Smith of Jesus Culture, and Michael W. Smith. She had her first number 1 hit as a songwriter when Passion's version of 'One Thing Remains' topped the charts in both 2012 and 2013. She has also toured as a musician with The Jonas Brothers, Michael W. Smith, and Jordin Sparks, and has been a keynote speaker on Women of Faith's 'Revolve Tour.'
While touring as a band member with The Jonas Brothers in 2009, Christa began a blog in hopes of helping others find freedom from depression, addiction, eating disorders, and the self-hatred she had endured for years on end.  Giving practical steps to making freedom a daily reality, testimonials from her blog began pouring in from all parts of the world.  She released her first book and corresponding CD 'God Loves Ugly' to help further the message, and spends much of her time traveling the world with her family, speaking about freedom and wholeness of the heart.
With a heart (and beard) as big as Texas, Lucas Gifford is more than just a strong, silent type. His wisdom exceeds his years, with a passion for deep connection with God and others through worship and counsel. With years under his belt managing a gym as a physical trainer, Lucas loves seeing people step into the both the spiritual and physical aspect of health and wholeness.  He loves to sit with his guitar and lead worship, teaching people how to step into deep intimacy and fellowship with Jesus.
After the death of their daughter, Luca Gold, on March 5, 2014, Lucas and Christa felt called to commit their time and talents to help heal broken hearts destroyed by pain. They live in Nashville, Tennessee with their son Moses Grae Lionheart, traveling back to Abilene each month to minister at Gold Monarch Healing Center.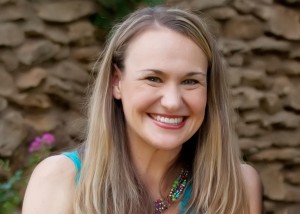 Hannah has trained and practiced massage for over 14 years, using a combination of Swedish, deep tissue, and trigger point release methods.  She feels the Lord has called her to use her physical and spiritual gifts through massage to allow others to encounter the Lord by being still and soaking in His presence.
She desires to release hope and healing to those trapped in physical and emotional pain, and to see God's love poured out over those whom He places in her path.
She lives in Abilene, Texas with her husband Clay and her four children.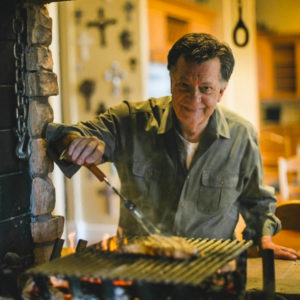 As a native farm-raised Texan, Eddie Harrison grew up in a family who cooked, prepared, and ate real food from their land—fresh vegetables, fruits, grass fed natural beef, lamb, chicken, eggs, milk, and butter. As a young man in the army eating out almost every meal, Eddie decided to go back to his food heritage, teaching himself not just how to cook, but to cook extremely well.
Year after year, Eddie's passion to cook and entertain kept him happy in the kitchen preparing meals for his wife and three daughters, but also donating his time at church-wide dinners, eventually catering large events, weddings, and celebrations. He developed the menu and recipe for his 4 1/2 star traditional Texas cuisine restaurant serving the Abilene area.
As his daughters began raising their children, they started to discover health issues and illnesses that he never faced as a boy raised on a farm, realizing that food today wasn't the healthy, fresh food he grew up with. He began to see that the mass commercial production of the food in our nation had its fair share of problems, prompting him to return to his roots—real food.
Eddie's heart is to cook in a way that returns back to our Biblical roots, using food to nourish, energize, and heal our bodies from a very toxic Western dietary culture. He loves to show people that eating healthy and clean can be a lifestyle full of flavor, color, and laughter around a beautifully prepared table.
He lives in Abilene with his wife Becki, and has three daughters, Amy, Sarah and Marisa, and four grandchildren.
Amy has always had a passion to help others understand the connection between spiritual, emotional and physical health. She has spent over 15 years in the health and fitness industry, working in hospitals, schools, and churches.
Amy did her undergraduate work at ACU in Abilene, Graduate work at Baylor University, and just recently received her license to work as an Holistic Nutritionist and will complete her board certifications in the Spring. She has numerous group fitness certifications and serves as a health adviser on both local and state boards.
Amy currently lives in Clyde, Texas with her husband Jerod, and three children. She has dreamed of a healing center like Gold Monarch for many years, finding it an answer to prayer to be involved to minister through health and wholeness.
Our Story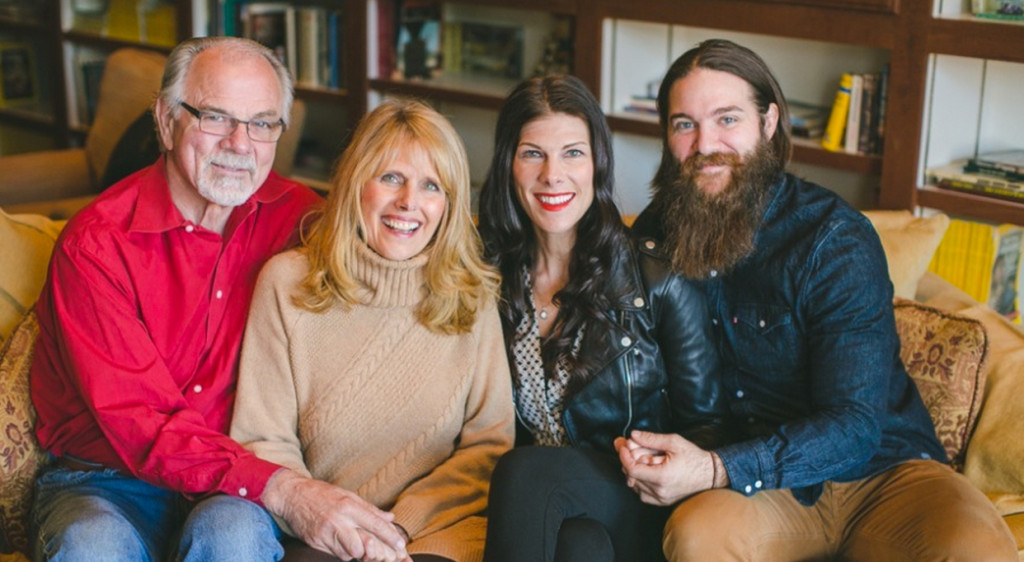 Taking her undergraduate degree in interior design that cultivates great pleasure in creating beauty in the home, and combining it with her masters degree in marriage and family therapy with years of work in inner healing ministries, Amy Black always held an impossible dream tucked deep within her heart to start a beautiful healing center for the broken hearted. But as a pastors wife of forty-years on a wonderful, but very reasonable salary, the lavish and expensive dream of a center was just that—a dream.
When Amy's daughter Christa Black Gifford moved to Abilene, Texas in January 2014 with her husband Lucas and their son Moses to receive personal heart-sync ministry, Christa began hopping online in her spare time to search for properties that fit her mother's longing for a healing center. She and Lucas had experienced incredible breakthrough while receiving ministry from Amy and David, knowing there was great need for healing of this caliber in the church.
They had no extra money to spend. The search wasn't logical. But they felt a pull on their hearts to dream. And dream big.
When God got ahold of that impossible dream in January of 2014 and breathed life on it, the dream turned to substance as the first large donation was handed to Amy's non-profit organization with one condition: "You've got to start a healing center to help the broken hearted."
But a couple of months later on March 5, 2014, as Christa gave birth to a baby girl named Luca Gold who passed away from a condition called anencephaly, the search for a healing center screeched to a halt as the entire family took their own personal time to heal from the shattering pain of trauma and loss. To wade through the fog of her own grieving and healing journey, Christa began to write about the process of heart-healing after tragedy, encouraging hundreds of thousands of readers to look at their own brokenness and begin their own story of wholeness. As her number of readers grew daily, sharing their own personal stories of loss, tragedy, and deep pain, the need for a healing center became more and more apparent.
As the months slowly passed and the family began to return back to life after death, Christa relaunched her search for properties in Abilene, Texas that fit the dream, knowing a place like that would need specific qualifications to be used as a healing center. They needed land that felt like a country-retreat away from the city, and beautiful housing with master suites for each of their guests. They needed space for spa treatments, and a large area to host bigger gatherings and conferences. They needed a gourmet kitchen where their chef could prepare organic meals, and rooms for personal ministry times. But as their search went on, the only property that fit their list perfectly was far out of their price range. In fact, it was double the amount of what they had been given.
At Amy's urging, Christa picked up the phone to call the realtor, wanting to tour the property anyway, knowing that impossibility was God's specialty. If He wanted this place to happen, then it most definitely would.
And as they all stepped onto the land and heard the story of the breathtaking 10,000-square-foot white stone house that was first built by a heart doctor, then sold to an incredible Christian family who had moved in to heal after the loss of their infant daughter, everyone knew.
This was land ordained by God for healing far before they had been there. And this property was it—the healing center.
No great story is told without a few bumps in the road, and the rather large bump was, they only had half the money they needed to put an offer on the property.
As Amy headed on a prescheduled trip to Pemba, Mozambique in August to minister HeartSync, Christa texted her mother an unfortunate message:
"Hey, mom. I just talked to the realtor, and the property had an offer and they've taken it off of the market. I'm so sorry, mom—we'll find the right place!"
With their dream property gone, and no funds to purchase it anyway, they began praying, asking God to be crystal clear.
Should Amy give the money back?
Should they move to Nashville to be around other family members and try to start the center there?
Were they supposed to wait and see if another miracle property came on the market in Abilene? Maybe it just wasn't the right timing?
One night as Amy lay her head on her pillow in Pemba after a long day of ministering, she woke up the next morning with a very clear and vivid dream. In the dream, the property in Abilene had been given to them, and it was open as a healing center. She returned from Africa and emailed the realtor, letting her know she had a dream and needed to make sure the place had really sold before her heart moved on.
The realtor responded, in complete shock. That exact day, the original buyer had backed out, unable to get his funding to purchase the property. The realtor encouraged Amy to get an offer submitted as quickly as possible, and that she would get it to the owners.
Fueled by a dream and a promise from God, Amy put a crazy bid on a dream property that she didn't have the money for, believing that in the ninety-days they had before closing on the center, the remaining money would miraculously surface.
Day after day, God showed off as new miracles appeared out of thin air. The doorbell would ring with acquaintances, family members, and friends feeling led to drop of checks containing thousands of dollars. Friends and church members would donate pieces of land to sell, or sign over stock to Amy's non-profit to be cashed in. Random and unsolicited donations would come into the Luca Gold Healing Fund online, checks would arrive in the mail, or cards with cash were given at church gatherings. At a conference in North Carolina, the speaker (who knew nothing about them) stopped to point at Amy and David in the crowd, declaring they were an Abraham and Sarah—and that high dollar real estate followed Abraham and Sarah. "Not just any real estate," he went on to say. "Property that overlooks the city—lavish, expensive, and beautiful real estate."
Everyone sat back and watched as God did what He does best—turn the desert of impossibility into the Promised Land of rest and inheritance.
As the days and weeks crept closer to the November 21, 2014 closing date, even with all the extravagant donations coming in, there still wasn't enough money to purchase the property. Amy and David still needed to sell their own home, planning on downsizing to buy a small guest house where they would live on the back of the healing center property, and a few key donations were yet to come through.
But the family kept returning to the dream, and to the words God had spoken—knowing He would come through. Down to the wire on the day of November 21st, just hours before closing, the last $25,000 was donated, and the non-profit organization Undivided Heart Inc. purchased the property, immediately naming it Gold Monarch Healing Center in honor of their little Luca Gold "Goldie" Gifford.
Amy and David live in a home on the property, and every day, they step on this miracle land, thanking God and believing for heaven to come to earth in the hearts of His children.